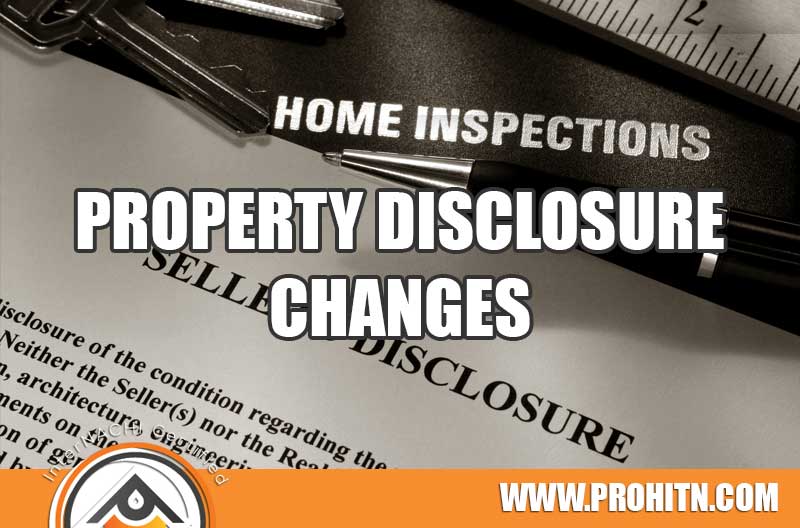 If you have bought and sold property in the past you're probably familiar with the Tennessee Residential Property Condition Disclosure. Property disclosure statements outline any flaws that the home seller(s) (and their real estate agents) are aware of that could negatively affect the home's value. These statements are required by law in Tennessee so buyers can know a property's good and bad points before they close the deal.
In most situations owners must provide a list of any known material defects that may exist prior to entering into a purchase and sale agreement. There are some cases in which a property disclosure would not be required to be completed by a seller such as, but not limited to, if the seller's have have not lived in the property in the last three years.
Some pretty important omissions (seen in red text) have been made from the 2018 version of the form.
Starting with line numbers 113-118:
C. ARE YOU (SELLER) AWARE OF ANY OF THE FOLLOWING:
1. Substances, materials or products which may be environmental hazards such as, but not limited to:  asbestos, radon gas, lead based paint, fuel or chemical storage tanks, methamphetamine, contaminated soil or water, and/or known existing or past mold presence on the subject property?
Next is line numbers 137-140:
12. Any past or present interior water intrusion(s) from outside home, standing water within foundation and/or basement? If yes, please explain. If necessary please attach an additional sheet and any available documents pertaining to these repairs/corrections.
Lastly line numbers 144-146:
13. Property or structural damage from fire, earthquake, floods, landslides, tremors, wind, storm, or wood destroying organisms? If yes, please explain (use separate sheet if necessary).
Home inspections and pest control inspections have always been a very important part of a real estate transaction. Due to these changes in the disclosure form, these inspections are now that much more important so that you can truly learn of the condition of the property.
While home inspectors are limited to the visual condition of the property at the time of inspection, there are often indicators of past or present water infiltration into the structure that will be reported on, if found. The same goes for mold, although the state excludes reporting on the presence of mold, any ethical inspector will make a note of visible "fungal growth" with recommended evaluation by an environmental company.
I highly recommend that you exercise your right to have a home inspection and pest inspection. As well as consulting with your real estate representative to see how these changes may affect you, as the changes I've referenced above are not the only changes made this year.